Vincenzo Bearzo - Manager
gif
Vincenzo Bearzot
Born: Monday, 26th September 1927, Ajello del Friuli, Italy
Position: Defender/Manager
Despite a modest playing career and very little experience as a club manager, Enzo Bearzot is one of Italian football's most famous faces as a result of his successful period in charge of the national team. A defender throughout his playing career, his tactical abilites far outweighed his successes as a player and he is regarded as one of Italy's finest coaches.
Beginning his playing career in Italy with Pro Gorizia, he also played for Internazionale and Catania but spent the majority of his career with Torino. It was during his first spell in Turin that Bearzot won his one and only international cap in 1955, and he went on to play more than 200 league games in two spells at Torino, although he never won a major honour.
After managing AC Prato in the lower divisions, he joined the national coaching staff and took charge of the youth and under-23 teams before taking the job of national coach in 1977. Following on from one of the more disappointing periods in Italy's international history, Bearzot took the team to fourth place in the 1978 World Cup, and laid the foundations for his crowning achievement four years later.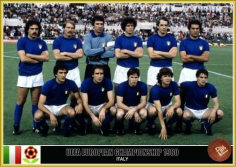 Bearzot steered the team away from the ultra-defensive style that had become Italy's trademark, and after reaching the European Championship semi-final in 1980 they went to the World Cup in Spain looking to build on that achievement. Inspired to Paolo Rossi and captain Dino Zoff, Bearzot's team shocked the world by beating favourites Brazil to reach the semi-final, and after beating Poland went on to record a comfortable victory over West Germany to take the title for a then record-equalling third time.
Four years later in Mexico, the Italian team that tried to defend the World Cup were a pale shadow of their predecessors, and Italy's crown fell to European Champions France in the Second Round. After this disappointment, Bearzot left his position as manager and retired from football. But he remains in history as one of the best managers.