Franz Anton Beckenbauer - Attacking Midfielder
gif
Franz Anton Beckenbauer
Born: Tuesday, 11th September 1945, Munich, Germany
Position: Defender/Manager
Franz Beckenbauer is almost universally consided among the very best players of all time, and few have enjoyed as much success. Beckenbauer won numerous honours at both domestic and international level as a player, before going on to similar success as a coach.
At club level, he spent thirteen glorious years with Bayern Munich during one of the club's most successful periods. With Beckenbauer as sweeper providing the defensive foundations, Bayern four league titles, four West German Cups, the European Cup Winners' Cup and a wonderful hat-trick of European Champions' Cups. Beckenbauer himself was named as West German footballer of the Year four times in this period, and was European Football of the Year twice. In 1977 he moved to North America to play for the New York Cosmos and helped them the three North American Soccer League titles, before returning to Germany in 1980 and winning his fifth Bundesliga title with SV Hamburg.
During his time with Bayern, Beckenbauer had also enjoyed a hugely successful international career. After playing in West Germany's disappointing defeats in the World Cup Final in 1966 and the semi-final in 1970, he captained the side to a then unprecedented double success of the European Championship in 1972 and the World Cup on home soil in 1974. His twelve year international career ended shortly after defeat in the 1976 European Championship final on penalties, but in total he won more than 100 caps for his country.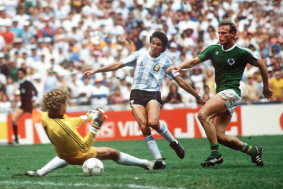 After the end of his playing career, Beckenbauer was a surprise choice to manage West Germany in 1984, given his lack of coaching experience. Overcoming this, he led a modest German team to the World Cup Final in 1986 where they lost to Maradona's Argentina. Four years later he would lead West Germany to revenge over Argentina as he became the first and to date only man to captain and manage World Cup winning teams.
Leaving the national team in 1990, Beckenbauer went to success in domestic management in both France and Germany, winning domestic titles with Olympique de Marseille and back with Bayern. Leaving management in the mid 1990s, he continues to work at Bayern as as well as leading the organisation of the 2006 World Cup in Germany. In addition to being a great coach, he is also one of the greatest players ever.